OUTLINING THE ON-BOARDING PROCESS
What is the process to set up the system? We have a 6-stage process. Each stage has specific outcomes and checks in place to ensure a smooth transition.
The onboarding process is shown in the infographic below: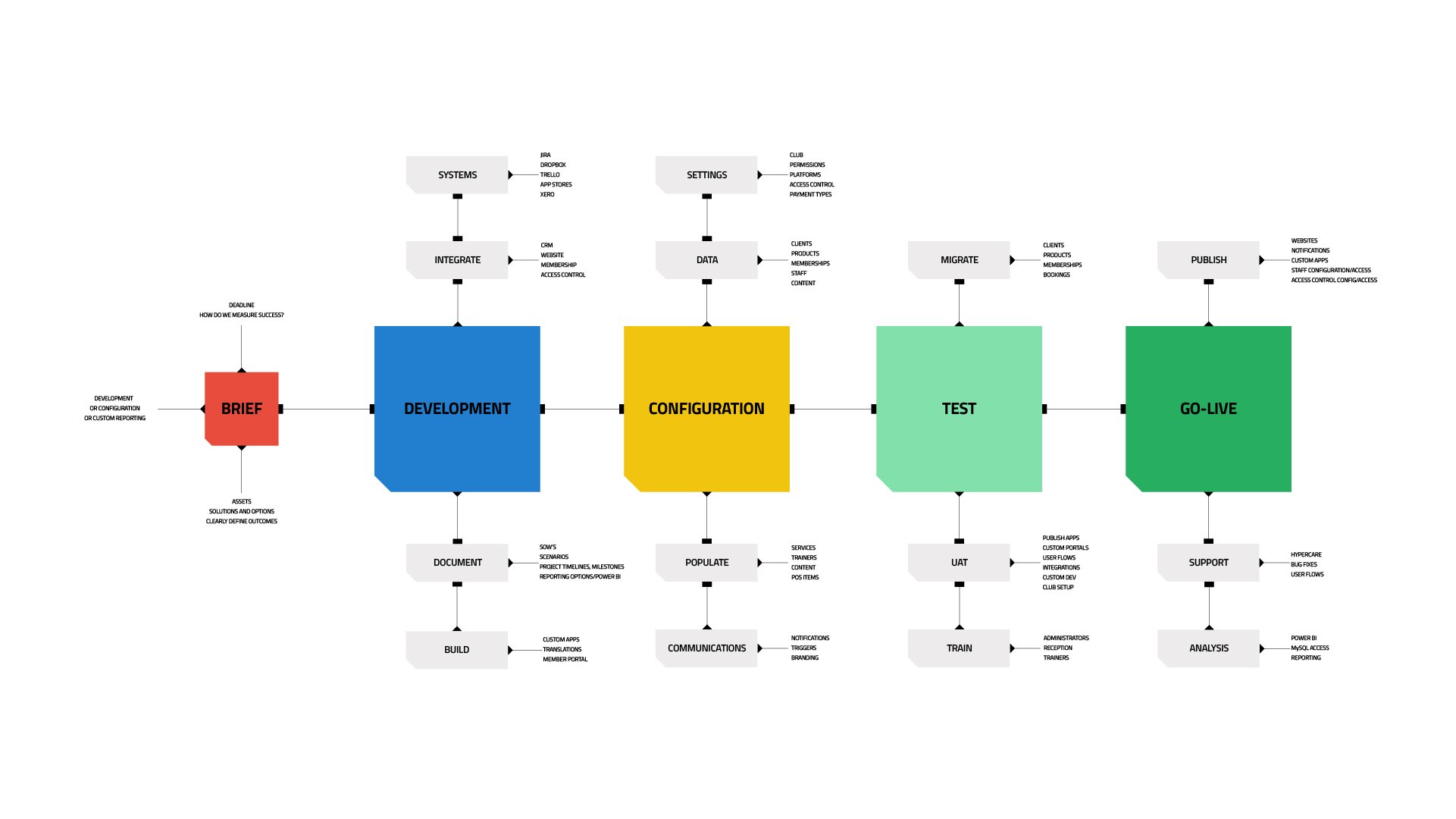 BRIEF
Our first step is to thoroughly assess the project's scope. This includes identifying if there is a need for Personal Training and Group Exercise features, as well as any potential future development requirements. We also determine if the implementation is a standard one or if it necessitates specialized custom reporting or configuration. Our primary goal is to establish well-defined outcomes with measurable Key Performance Indicators (KPIs) in place to effectively evaluate and ensure client satisfaction.
DEVELOPMENT
During this stage, we focus on establishing efficient methods for sharing documentation and monitoring the progress of your project. Depending on your project and personal preferences, we leverage popular platforms such as Dropbox, Google Drive, Slack, Teams, and Trello. Our ultimate aim is to seamlessly integrate these systems to enhance communication and collaboration.
At this point we will integrate with your MMS system if necessary. If you have specific requirements like displaying timetables, showcasing product offerings, or featuring trainer profiles on your website, we are here to seamlessly integrate these elements. Additionally, we can connect the platform to your existing CRM, allowing you to implement customized automations that will elevate the personalized interactive experience for your valued customers.
DOCUMENTATION
‍
If you have specific customization needs for the system, our development services team is here to assist you. We will create a comprehensive statement of work (SOWs) that outlines any new developments required, different from the standard solution. These SOWs will be reviewed and approved by both the operator and Fisikal, ensuring a clear understanding of the requirements. We will also establish timelines and development milestones, providing regular updates and reporting throughout the process. If there are any custom functionalities developed by Fisikal, they will be thoroughly tested and deployed in our test environments for your review and configuration.
Throughout the implementation of the project, our documentation will be updated to include specific timelines related to each phase. This allows for better planning and tracking of progress, ensuring a smooth and efficient implementation process.
CONFIGURATION
‍This section of the system allows you to customize how users interact with the platform and includes a wide range of detailed system settings. It may require input from multiple team members, including operators, administrators, and finance teams. But don't worry, once you have all the necessary information, configuring these settings can be done in just a few minutes or a couple of hours at most.
The task of connecting member data from your MMS is handled directly by Fisikal, so there's nothing for you to do here. You may simply need to answer a few questions about which membership types and statuses the system should have access to.
We ensure that the system is fully equipped with all your services, staff profiles, products, and correctly scheduled and configured bookings. This process should only take a few days, depending on the number of clubs you are implementing this for and whether you are utilizing our GX, PT solutions, or both. The great news is that we have various automated methods to streamline the process of importing this data into the system, so you don't have to worry about doing it all manually!
With over 200 customizable notifications available, not all of them will be used by every customer. Fisikal can assist operators in identifying which communications are most relevant to their needs and provide training to your team on how to personalize and brand these notifications quickly.
If operators are utilizing third-party CRM platforms for custom automations, Fisikal can create and connect custom Zaps to enable triggers in Fisikal, resulting in seamless automation delivered from the operator's CRM.
TEST‍
During this crucial stage of the project, we meticulously test and validate the data managed in the "configuration" phase for clients, products, and bookings. This rigorous testing process is conducted by both Fisikal and the operator's teams to ensure that everything functions exactly as needed.
If any exciting new features have been developed as part of the project, they will seamlessly transition from our staging environment to our UAT (user acceptance testing) sites. Here, we thoroughly evaluate these innovative additions to confirm their readiness and smooth integration. Additionally, we submit apps to the App Stores for approval and rigorously test all user flows and integrations.
Fisikal goes above and beyond by conducting a series of comprehensive training workshops, whether in person or digitally, to ensure that administrators, reception teams, and trainers are fully equipped with the knowledge and skills needed to successfully operate the platform. Furthermore, we are more than happy to assist the operator in creating a personalized "standard operating procedure" (SOP) document tailored to their specific needs.
‍GO-LIVE
‍The moment has arrived to unveil the app to the world, allowing customers to download it and enabling notifications for seamless user interaction with the platform. If necessary, this can be done in multiple stages of release.
Now that everything is live, operators may have operational questions or require assistance while using the system. We have established a dedicated "hypercare" channel to facilitate direct communication between operators and Fisikal. Our team works diligently with operators to swiftly address inquiries and resolve any issues that may arise. For non-urgent matters, operators can also reach out to our support teams via email for assistance.
We continuously monitor and analyze the system's performance to ensure optimal operation. Fisikal hosts weekly or bi-weekly calls to discuss technical, operational, and any other issues that need to be addressed and resolved for the success of the project.
DEFINING THE SUPPORT AND ACCOUNT MANAGEMENT PROCESS
To ensure your project objectives are met, the Fisikal project management team will guide you through a smooth onboarding process onto the platform.
Once your project is live, you will gain access to a variety of support pathways, as depicted in the accompanying infographic below.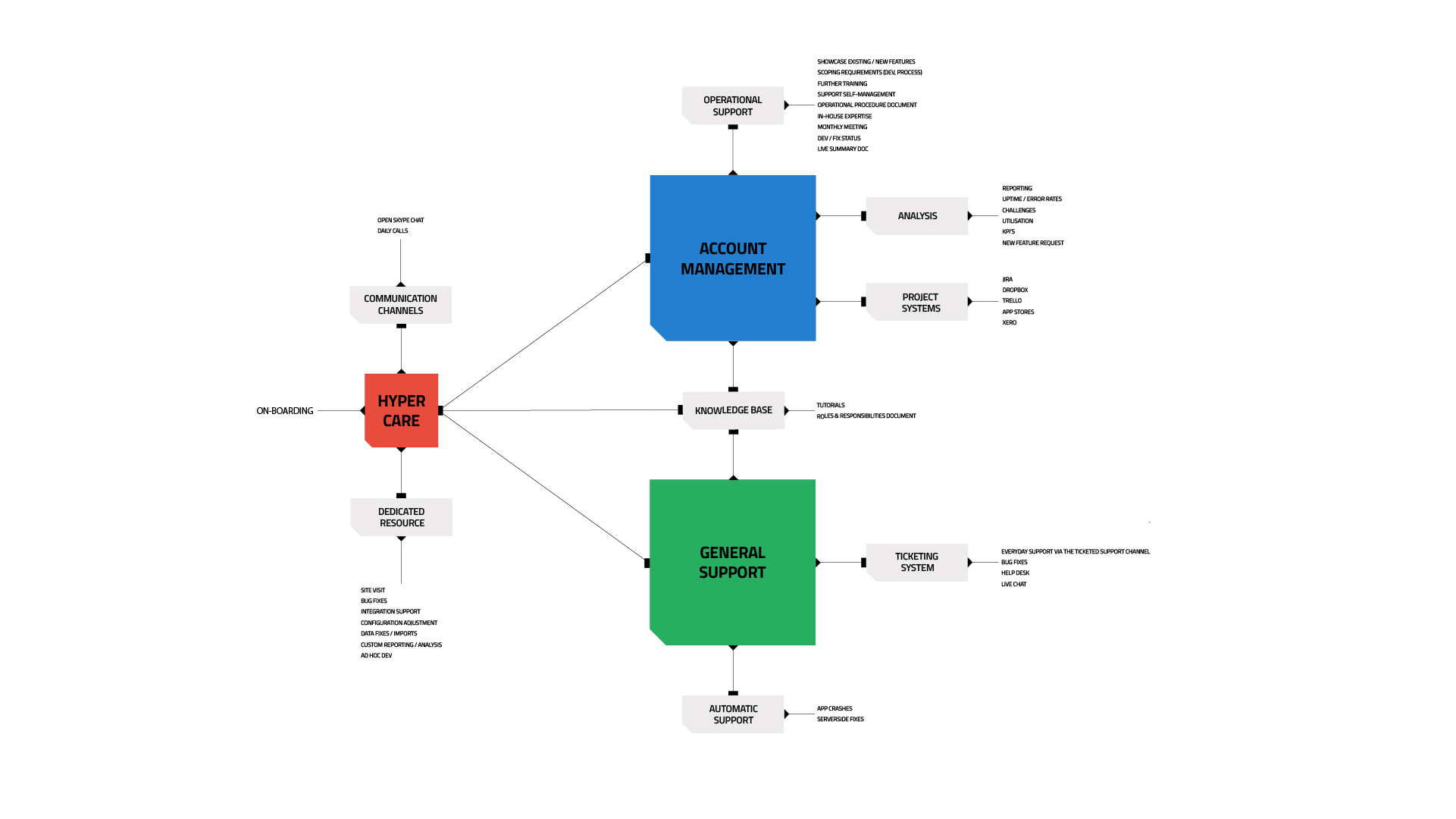 HYPERCARE
When a new operator joins Fisikal, they embark on a phase called 'Hypercare' that typically lasts for 2-3 months. During this time, we establish an open line of communication, providing operators with direct access to their dedicated account manager. Our support team is readily available to assist with any configurations, data adjustments, integration support, custom reports, analysis, or any other ad-hoc development requirements.
KNOWLEDGE BASE
During this period, the 'hypercare' team will ensure that operators are well-versed in utilizing the knowledge base and will continuously update tutorials to assist them with any specific issues that may not have been previously documented. The knowledge base serves as a comprehensive repository of tutorials and videos designed to empower operators to effectively navigate the system and resolve issues independently.
ACCOUNT MANAGEMENT
Once the 'Hyper-care' period concludes, operators will transition into the account management workflow where they will be paired with a dedicated Fisikal account manager. This account manager will serve as their primary point of contact for operational support and usage analysis, ensuring operators can effectively monitor key performance indicators and utilization. Through scheduled calls, operators and account managers will address any operational challenges, provide updates on bug fixes, explore new features and their implementation, and capture any necessary development requirements. The information discussed during these calls will be carefully documented, and the progress will be diligently tracked within agreed-upon project systems.
GENERAL SUPPORT
Once operators have become familiar with the system and no longer require daily support, they will transition to our general support channel. In this channel, operators can log support questions by emailing support@fisikal.com. These questions will then be processed through our ticketing system, which is managed using Hubspot. Our dedicated support team will log and respond to tickets for technical issues or questions within the agreed-upon timeframes. Additionally, operators can also utilize the integrated live-chat feature to ask questions. Our support and technical teams are constantly monitoring the system for any performance or technical issues. If we do identify something, we will promptly communicate with operators to inform them and guide them through the investigation and resolution process.
DEFINING RESPONSIBILITIES
During the setup process, we will establish a responsibility matrix to provide operators with a clear understanding of how issues will be resolved.
It is important to recognize that there may be multiple parties involved in supporting your membership systems, member app, and booking solutions.