DIR PARTNERS WITH FISIKAL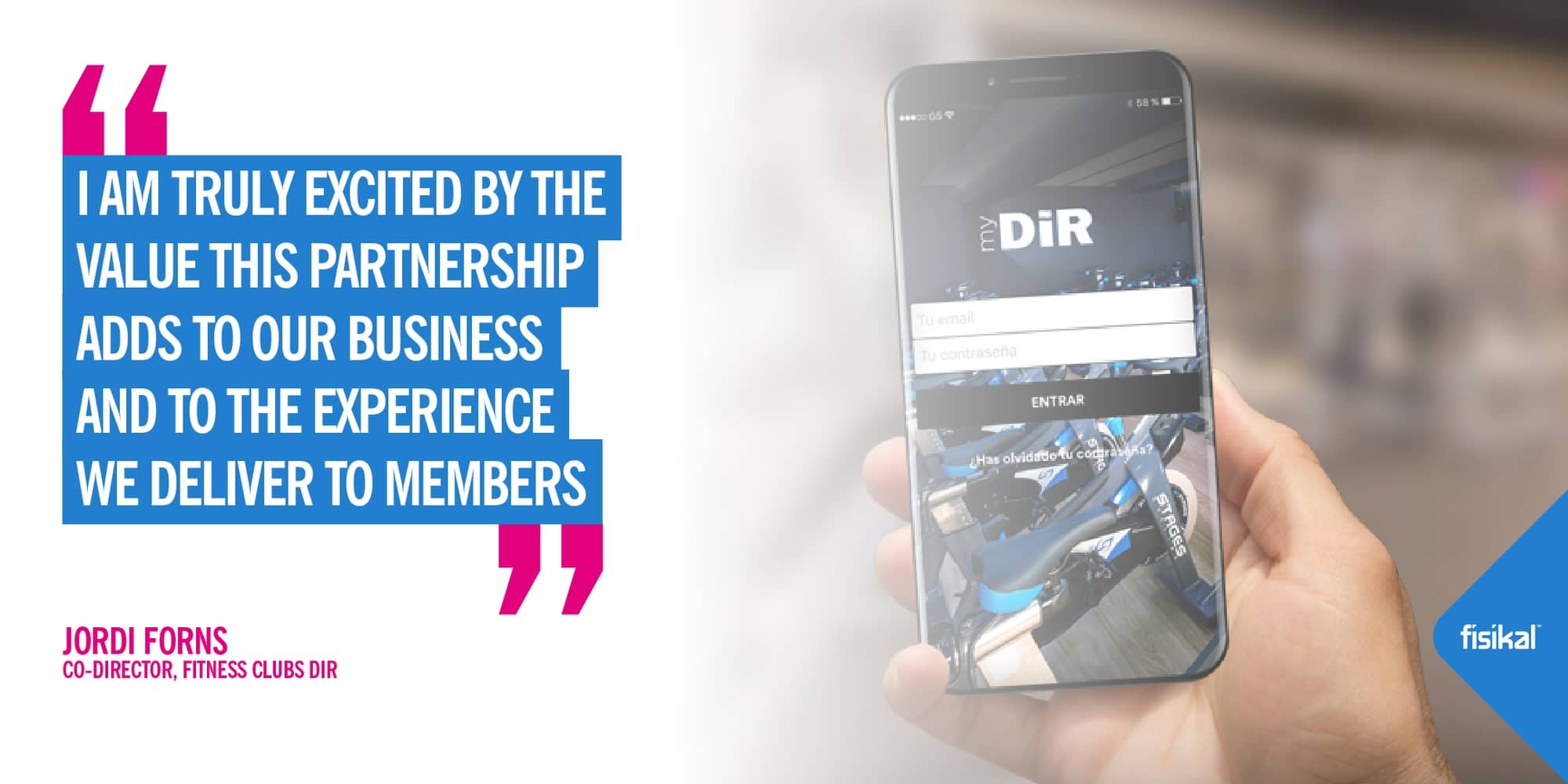 DIR partners with Fisikal to enhance member experience and improve operational efficiencies.
DiR Clubs is the largest operator of fitness clubs in Spain, managing a network of 24 beautiful sports centres in the province of Barcelona and Sant Guga serving more than 120,000 members. In addition, DiR Clubs manages a network of 48 franchise facilities. These are also located in and around Barcelona.
‍
DiR Clubs offer a range of luxury facilities including well equipped workout spaces, swimming pools, fitness studios and tennis courts, as well as a range of complimentary services such as physiotherapy and nutritional advice. The brand positions itself as an innovator, supporting individuals in their quest to live healthy, active, fulfilling lives.
In 2018, DiR Clubs appointed Fisikal as its digital partner with a 12 month plan to fully integrate with DIR's existing systems and to migrate a number of services online, enhancing member experience and improving operational efficiencies. The roll out started in September 2019 and will take place across the DiR Club and franchise network, adopting a phased approach to integration, ensuring a smooth and manageable transition.
As phase one comes to an end, we caught up with Jordi Forns, Co-Director, Fitness Clubs DiR to ask why the brand has committed to such a fundamental change and how the transition is playing out.
‍
HOW AND WHEN DID YOU FIRST BECOME AWARE OF FISIKAL?
I first became aware of Fisikal in 2010 but it wasn't until the start of 2018 that we began to seriously think about how we might enhance our personal training service. At this time, I contacted Rob and we started a dialogue, exploring how Fisikal could help us improve our service both from an operational and a member experience perspective.
WHAT WAS THE NEED WITHIN YOUR BUSINESS THAT YOU EMPLOYED FISIKAL TO ADDRESS?
We wanted to improve the operational efficiency of our personal trainer business and improve the experience for both personal trainers and members.
We were operating a largely paper-based system (best to check with Jordi) which made it practically impossible, across multiple Clubs, to accurately track and monitor how sessions were being sold, the number of sessions being sold, and which personal trainers were making the sales.
We needed a system which gave us real time visibility of this part of our business which, managed efficiently, has the potential to generate significant secondary income. We also wanted to improve the experience for our personal trainer team, making booking, payments and the sharing of training plans super simple and easy to manage.
Introducing an online solution would also professionalise the service for our members, making it possible for them to access personal training plans, make appointments and pay for sessions, all independently, from a mobile device, instead of having to call the club and book through a very busy receptionist.
HOW HAS FISIKAL HELPED TO ADDRESS YOUR NEEDS?
Phase one of the project is now complete across all DiR Clubs and has extended way beyond supporting our personal training business. We have also introduced the Fisikal online booking solution to our physiotherapy and nutrition advisory booking services.
The next phase will introduce online personal training plans, supported by access to a library of video exercises as well as generic workouts and online payments. We are aiming to complete this integration across the entire DiR Club network by the end of this year and will then move into phase three which will take our class programme online, introducing online bookings.
So far, the online bookings service has been really well received by both members and staff. Personal trainers are enjoying the fact that members can access their profiles and booking schedule online, then make a booking direct. That booking then appears in the trainers personal schedule. Just having these appointments drop into the diary is an absolute gift for the training team.
WHAT ATTRACTED YOU TO ENGAGE FISIKAL, OVER OTHER POTENTIAL PROVIDERS, AS YOUR SOLUTIONS PARTNER?
The solution offered by Fisikal is incredibly flexible. Rather than us having to adjust processes to accommodate the integration, the software has been custom-built to accommodate our very specific needs.
The functionality is also extremely comprehensive enabling us to introduce online booking, payments and education across multiple departments from personal training and physiotherapy to group exercise. This makes using the system super simple for our staff team and members to learn and manage.
DIR HAS FULLY INTEGRATED FISIKAL'S FUNCTIONALITY WITH ITS OWN, BESPOKE. DIGITAL BUSINESS MANAGEMENT SYSTEM. HOW HAVE YOU FOUND THE PROCESS?
Our system is very complex and is managing 40 years of company history. As a result, it is littered with peculiarities and nuances that Fisikal has had to navigate. I am pleased to say that, thanks to Fisikal's flexible approach and perseverance, we have developed a bespoke solution which delivers a seamless service to members and is easy for our staff team to operate and manage. This is still all very new to us but as we practice using the system more, the benefits ae becoming more and more apparent.
HOW HAVE YOU FOUND WORKING WITH FISIKAL, DAY TO DAY?
Great! Being able to access data anytime, anywhere is transforming the way we run our business. Real time operational visibility is hugely beneficial, both to the business as a whole and to individual trainers. Trainers are now able to manage their schedule much more efficiently and are able to schedule and send automated and ad hoc notifications to members 24/7. This communication tool also enables the member to directly message the personal trainer, enabling dialogue to take place anytime anywhere, helping to create a strong bond between the two.
PLEASE CAN YOU CONFIRM FUNCTIONALITY ROLL OUT TIMINGS? WILL THE FUNCTIONALITY GO LIVE AT ALL DIRE SITES ON A SET DATE? IF SO, IS THERE A DATE SCHEDULED?
By the end of November, all DiR Clubs will be using the online PT booking system. Online payments will be integrated across the network by the end of December and by the end of February 2020, all clubs will be using the online booking system for group exercise.
Once the functionality is up and running and we have ironed out any inevitable glitches, we will decide on a timeline to integrate Fisikal solutions into our franchise side of the business. The plan is to start this roll out at the start of 2020.
HAS FISIKAL DELIVERED ON ITS PROMISE TO DATE?
Yes, everything has been delivered on time. Fisikal is a truly valued partner.
WOULD YOU RECOMMEND A PARTNERSHIP WITH FISIKAL TO OTHERS?
Absolutely. Fisikal has bene able to address every need and integrate solutions seamlessly with our complex, bespoke in-house software systems. Integrating a whole new digital solution across multi-sites is a hugely complicated process but I am pleased to say that, working with Fisikal, it has been as painless as it could possibly be. I love the fact that they have created a solution which adapts to our business and not the other way around. I am truly excited by the value this partnership will add to our business and to the experience we deliver to members
‍
SOME OF OUR LATEST ARTICLES...