SEAMLESS PAYMENTS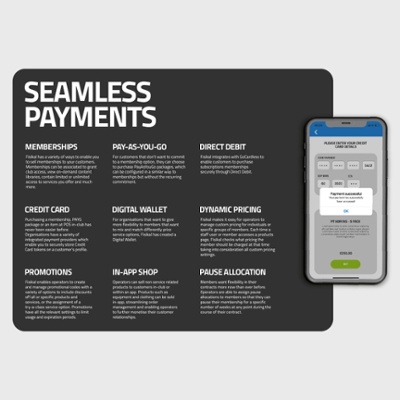 DOES YOUR BUSINESS MANAGEMENT SOFTWARE ENABLE YOUR MEMBERS TO EASILY PURCHASE MEMBERSHIP AND PACKAGE OPTIONS ONLINE AND VIA AN APP?
Fisikal has a variety of options to enable you to sell memberships and products to your customers online and via a mobile app. Memberships can grant club access, enable members to view limited or unlimited on-demand content libraries and much more.
For customers that don't want to commit to a membership option, they can choose to purchase PayAsYouGo packages, which can be configured in a similar way to memberships but without the recurring commitment.
‍
DOES YOUR BUSINESS MANAGEMENT SOFTWARE ENABLE YOU TO SELL A VARIETY OF NON SERVICE PRODUCTS AND MERCHANDISE TO YOUR CUSTOMERS?
Operators can sell non service related products to customers in-club or within an app. Products such as equipment and clothing can be sold in-app, streamlining order management and enabling operators to further monetise their customer relationships.
For products that are sold in-club, Fisikal's stock control feature makes it easy for operators to balance stock and product pricing for specific club locations.
‍
DOES YOUR BUSINESS MANAGEMENT SOFTWARE MAKE IT EASY FOR YOU TO DYNAMICALLY CHANGE THE PRICE OF YOUR MEMBERSHIPS AND PACKAGES FOR SPECIFIC GROUPS OR INDIVIDUAL MEMBERS?
Fisikal makes it easy for operators to mange custom pricing for individuals or specific groups of members. Each time a staff user or member accesses a product page, Fisikal checks what pricing the member should be charged at that time, taking into account all custom price settings.
If Fisikal is the subscription or billing engine, its easy for you to give specific pricing for a specific period as well – so if you want to give someone a 50% discount for the first month and then offer them a custom rates for the remainder of their term – no problem!
Fisikal also enables operators to combine product offerings into bundles and sell these to members online, in-club and via app. You can configure bundles to include whatever combination of products and services you like and then sell them for a fix one of cost or monthly fee.
‍
DOES YOUR BUSINESS MANAGEMENT SOFTWARE SAFELY AND SECURELY STORE MEMBERS CREDIT CARDS TO SIMPLIFY CARD MANAGEMENT AND RECURRING PAYMENTS?
More and more consumers feel comfortable to purchase goods online via credit card than ever before. Most households now have at least one digital service from providers like Amazon, Netflix and Apple, so it make sense that we make it easy for members to safely store their credit cards on their membership system for each of payment.
Although Fisikal is PCI compliant and could store credit cards directly in our platform, we decided the best approach was to connect into third-party payment providers directly and leverage their secure-vault feature so Fisikal simply stores a token in the system against a members profile.
Holding a tokenised payment method makes it easy for staff and members to assign ad-hoc and recurring payments to a members card. Fisikal also has a retry feature, so if a payment fails it will try a defined number of times over x days, to try to collect the outstanding balance from a members profile.
Members and staff can, with the relevant permissions, add, delete and update member credit cards – to make sure that the right card is used as required.
‍
DOES YOUR BUSINESS MANAGEMENT SOFTWARE GIVE YOUR MEMBERS THE FLEXIBILITY TO DRAW DOWN FROM A DIGITAL WALLET?
For organisations that want to give more flexibility to members that want to mix and match differently prices service options, Fisikal has created a Digital Wallet.
Operators can create a digital wallet and the associated top-up products, which enables you to set up a minimum wallet balance as well as a balance expiration period as well. Members can draw down when they go to make a booking for a service they have not yet paid for and they can also use it for other non recurring payment options, such as in-club products and service packages.
A digital wallet is a great way to offer custom pricing to members as well, but also to have money paid to you in advance of delivering the services that it might be used against.
‍
DOES YOUR BUSINESS MANAGEMENT SOFTWARE MAKE IT EASY FOR YOU TO MANAGE PROMOTIONS AND ASSIGN DISCOUNT CODES?
Fisikal enables operators to create and manage promotional codes with a variety of options to include discounts off all or specific product and services, or the assignment of a try-a-class service option. Promotions have all the relevant settings to limit usage and expiration period as well.
Each time a promotion is redeemed by a member, Fisikal tracks its usage and present it to you in its reporting suite.
‍
DOES YOUR BUSINESS MANAGEMENT SOFTWARE GIVE YOU A CHOICE OF LOCALISED PAYMENT PROVIDERS SO THAT YOU CAN GET THE BEST RATES FOR THE TYPES OF PRODUCTS AND SERVICES YOU ARE SELLING?
Fisikal has integrated directly with a variety of payment providers to include Stripe, Paypal, DPS and SmartPay. These solutions vary based on if users can store card tokens or if the payment is directed to a payment window to complete the transaction.
Fisikal has also integrated with Spreedly who have done over 120 direct integration in most countries around the world. The Spreedly-Fisikal integration is the most advanced in terms of how Fisikal and the localised payment provider interacts with itself. Here you can store card tokens, manage dynamic pricing, pause payments and refund transactions without having to do this in multiple places. Whatever transactions are actioned directly in Fisikal will update the localised payment provider and charge, pause or refund the members credit card directly.
For operators that want to still continue to sell memberships via direct debit, Fisikal has a full integration with GoCardless to make this whole process as seamless as possible. Like the Spreedly integration, Fisikal acts as the payment engine and then directs the payment fulfilment to the provider – in this case GoCardless. Fisikal listens out for payment notifications and updates membership packages and club access according to the payment status.
‍
DOES YOUR BUSINESS MANAGEMENT SOFTWARE MAKE IT EASY FOR YOU TO MANAGE MEMBERSHIP PAUSING TO GIVE MEMBERS FLEXIBILITY IN THEIR MEMBERSHIP OPTIONS?
During the last 18 months, operators have had to process member pausing more frequently than ever before, it is important that your software provider can help automate this process as much as possible and be there to assist you to simplify this process.
It is possible to manually pause memberships in the system on an ad hoc member basis. Fisikal also offers a "pausing"service, so we can help create bulk changes across the system for specific groups of members so you don't have to process these one by one.
We also create the ability for a member to be able to pause their membership if you have given then access to be able to do so. In some cases, you might want to consider giving members a "pause allowance", so within their annual membership they could pause it for holidays or for any reason, for an agreed number of weeks without incurring a penalty fee. If enables, members can pause their memberships and this will draw down from their "pause allowance" – giving greater flexibility to members and streamlining operational processes.
For further information on our seamless payments solutions, please contact info@fisikal.com
‍
‍
SOME OF OUR LATEST ARTICLES...